Fortiori
Fortiori™ is a liquid product which contains manganese (6% w/w), potassium (8.5% w/w) and nitrogen (5% w/w). It is designed to be used on soybean as a foliar spray, which delivers manganese in a chelated form without significantly affecting glyphosate performance.
Benefits of Fortiori
Unique patent pending formulation.
Helps prevent and treat manganese deficiency.
Excellent foliar uptake.
Leading compatibility with glyphosate, glufosinate and other AgChem foliar sprays.
Does not significantly affect glyphosate performance.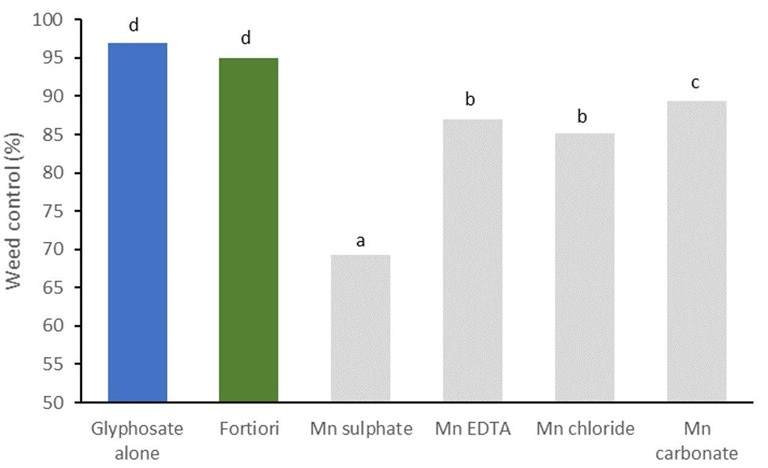 No significant reduction in glyphosate performance
A number of herbicide compatibility trials have been carried out with a range of weed species. A trial was conducted in Brazil where weed control was assessed after an application of glyphosate with different Mn products all applied at the equivalent of 100 g/ha of Mn. The effect of treatment was highly significant (P<0.001), and the differences between formulations are indicated by Scheffe multiple comparison test. Fortiori gave comparable weed control to the glyphosate alone treatment and outperformed the four competitor products which were based on different salts. Therefore Fortiori does not significantly effect glyphosate performance.