Enhanced plant growth technology
Our biostimulant technology, branded under the name Talsano™, stimulates rooting and plant growth, and also helps boost resilience to abiotic stress.
Key benefits of Talsano
Enhances rooting.
Increases shoot growth.
Improves resilience to abiotic stress.
Stimulates crop yields.
How does Talsano work?
Certain compounds are key building blocks for plants, used in many biological processes. Talsano is a precursor for thousands of metabolites that have important roles in plant growth, resilience to abiotic stress, signalling and reproduction. While this precursor is naturally occurring and can be synthesised by plants, a foliar application can reduce the plant's energy directed towards compounds synthesis, and more importantly, stimulate certain biochemical pathways.
Talsano data sheet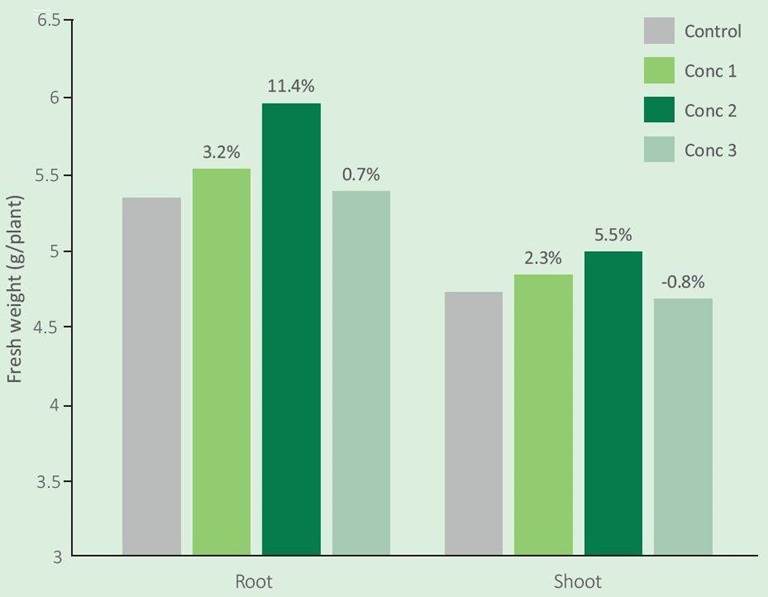 The effects of Talsano on signalling and plant growth
Two greenhouse trials assessed a wide range of Talsano concentrations, applied to soybean. Talsano application increased root weight up to an optimal concentration (conc 2), but was less effective at the highest concentration. There was a significant response to Talsano concentration (P<0.05), with up to a 11.4% increase in root weight. Additionally, the shoot weight (leaves and stems) increased by 5.5% at the optimal Talsano concentration. More data can be found in the data sheet.
Products that contain Talsano technology